Product Description
#SF-DMJ700A/1/1GT/1L/2
Long-arm Drywall Sander Machine Wall Tool Sandpaper Polishing Equipment
Specification:
Type: Disc Sander,    Grinding disc diameter: 230mm
Applicable sandpaper diameter: 180mm, 215mm
Sandpaper type: self-adhesive flocking sandpaper
Rated power: 710W,     Speed: 1000-2200r/min
Whether it comes with a black corner polishing: yes
Vacuum cleaning method: bring your own vacuum
Vacuum rate: 40-80%,   Type of lighting: two light strips for you to choose
Design features: high-power copper large motor, LED single lamp with illumination,grinding disc with suspension design, equipped with dust bag, self-carrying function, hand-feeling ergonomic design.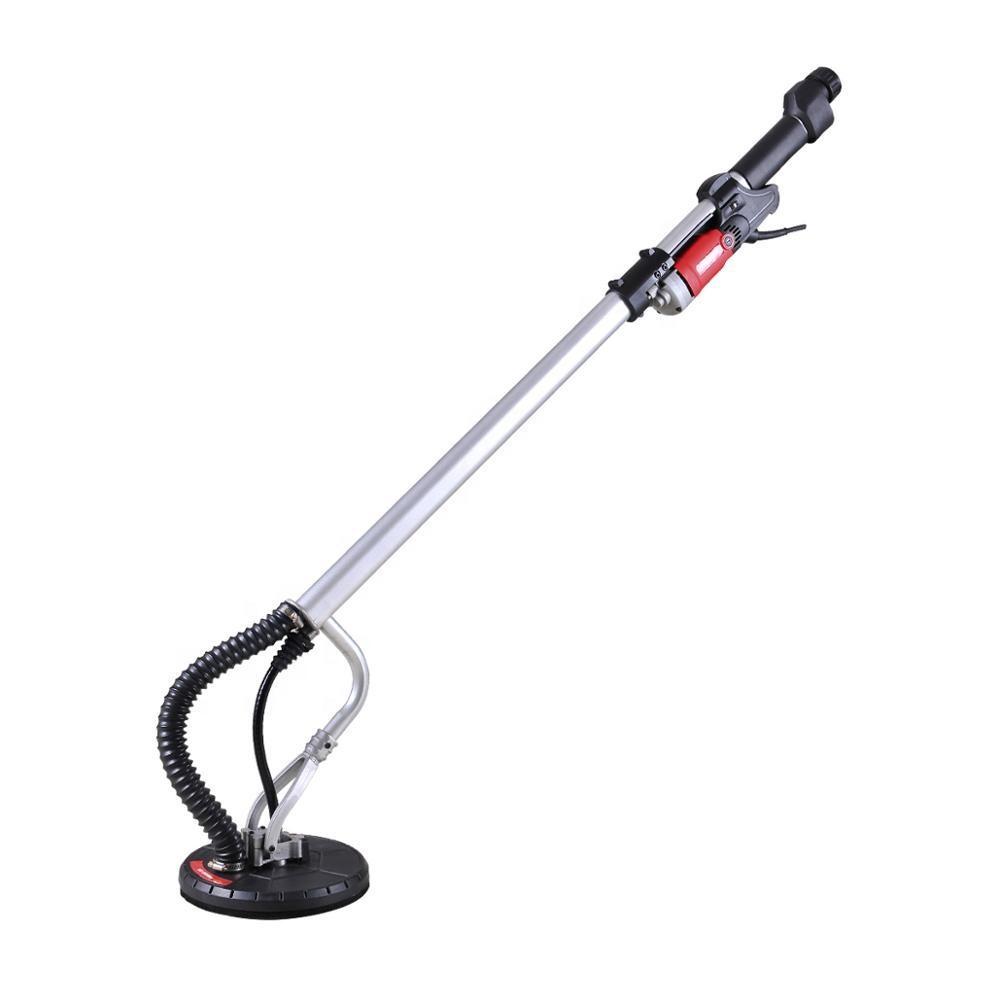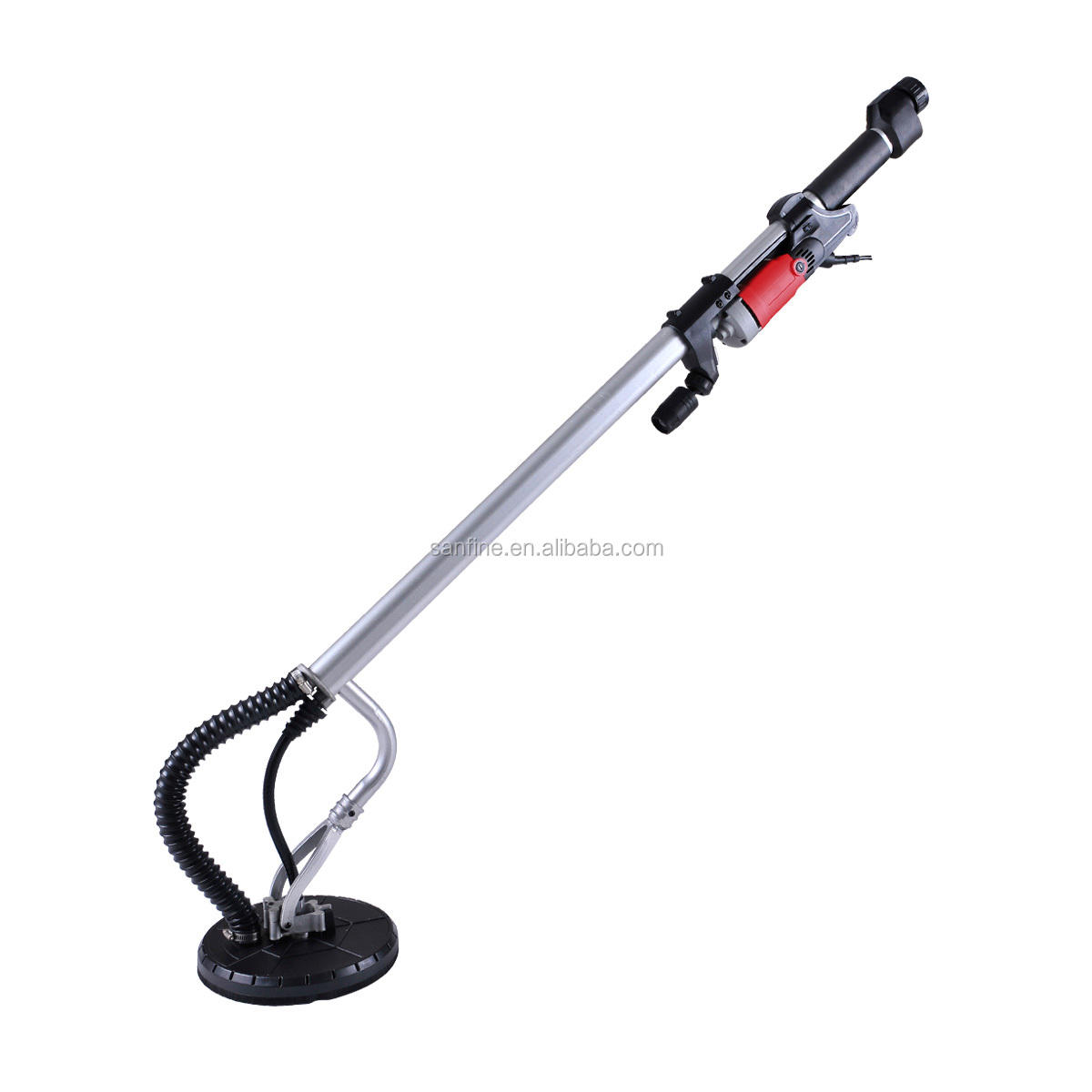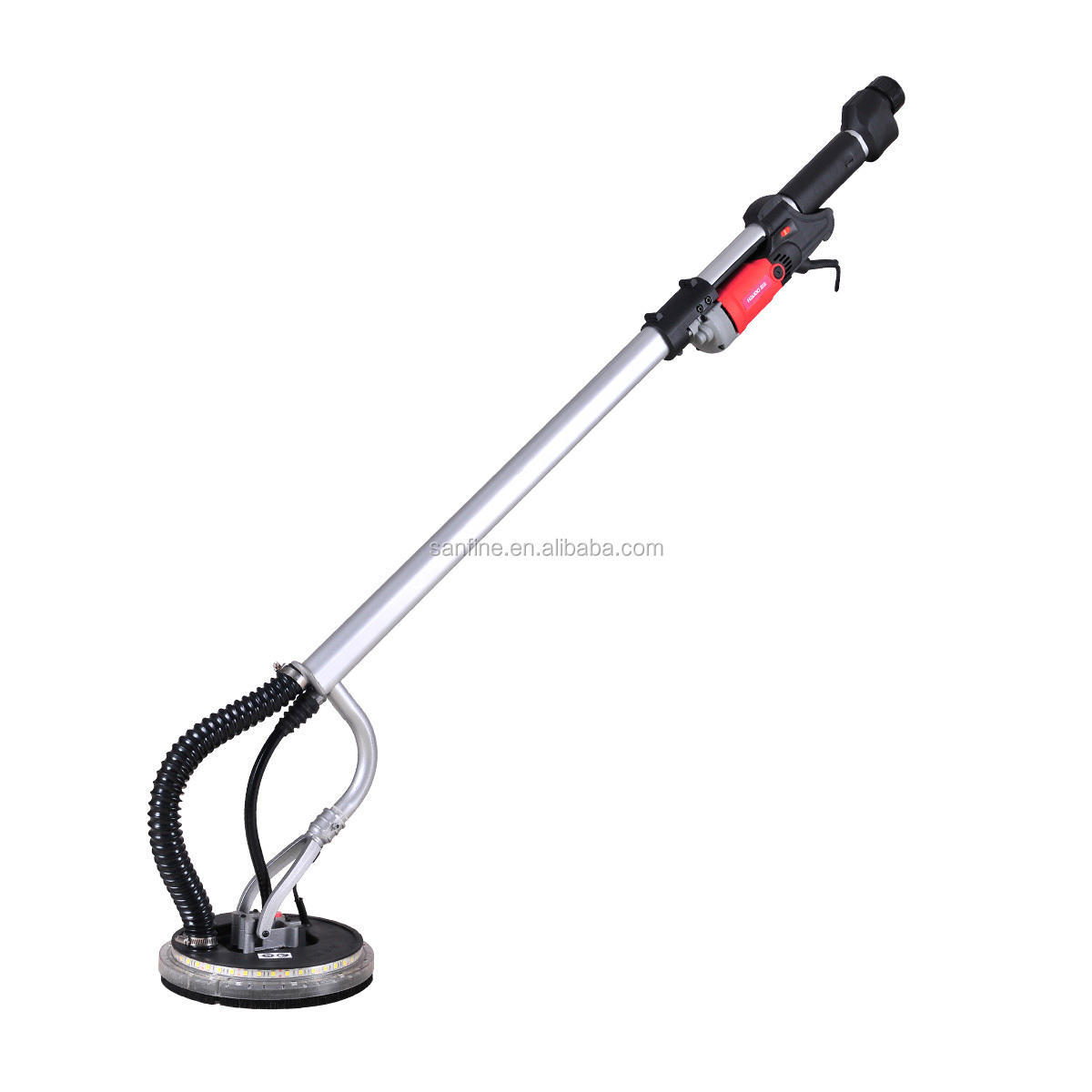 Techincal Parameters:
| | |
| --- | --- |
| Product name | Wall Grinding Machine/wall sander |
| Model |  SF-DMJ700A |
| Voltage: |  220V/50HZ |
| No load rotation speed | 600-2600RPM |
| input voltage: | 710W |
| Grinding disc diameter: | 225mm |
| Disc diameter: | 215mm |
| Extension rod length: | 1.1M |
| Overall length: | 1.3-1.9M |
| Machine weight: | 3.5KG |
| Telescopic rod machine weight: | 4.1KG |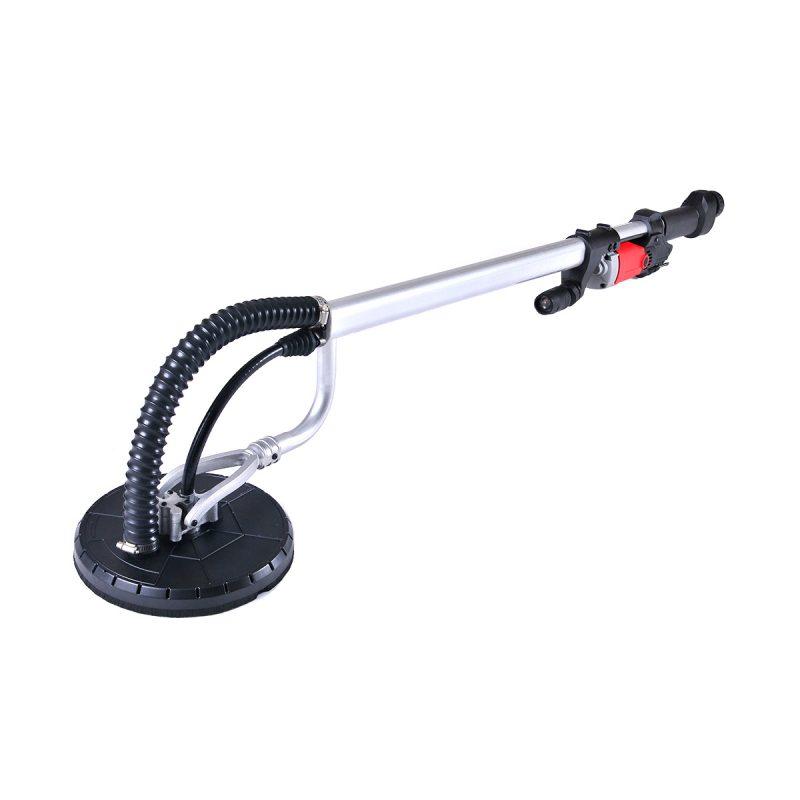 Feature:
Side handle for holding, comfortable to operate, Soft grip, comfortable to operate
Big dust bag with carrying belt, big space increase vacuum absorption power
Separated dust absorption system, which protect motor from dust enter.Each bearing with sealing ring also avoid dust to enter.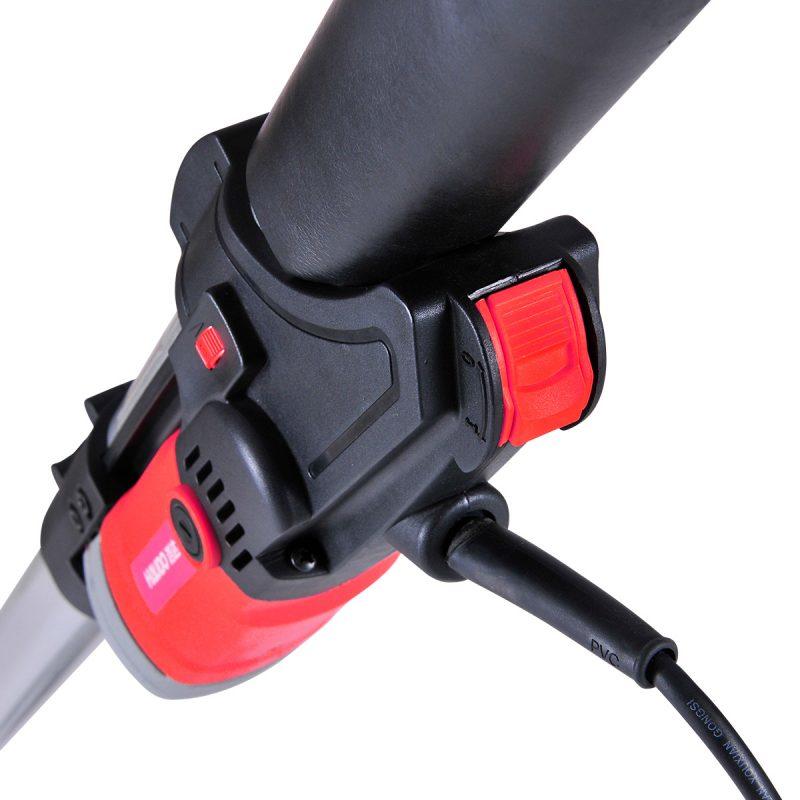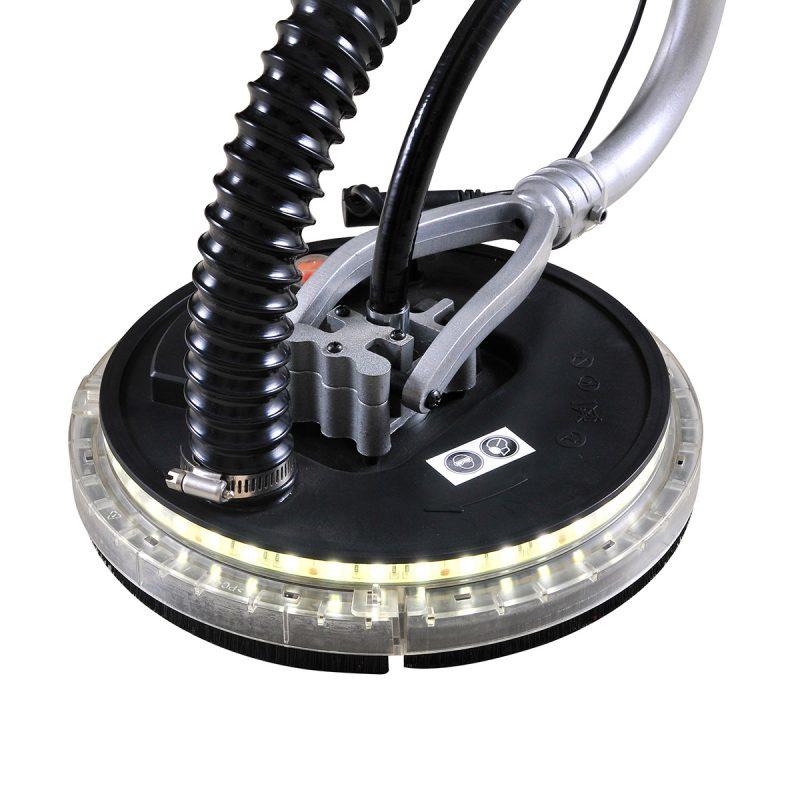 A new generation of wall polishing products instead of manual work, time-saving, less effort and efficient. It is suitable for home decoration, large public places and so on. The dust can be sucked into a special dust bag to prevent it from affecting the environment and workers' health.The product can be widely used for the smoothing and roughing of the four walls and ceilings of the building, can also be used for grinding, polishing, paint removing and rust removing of wood workpieces and other different materials.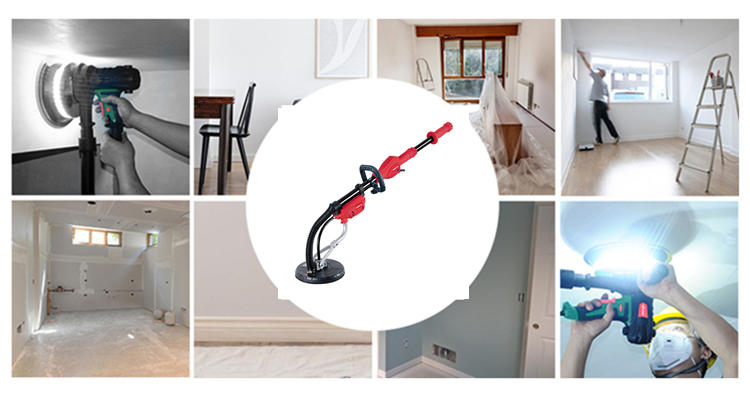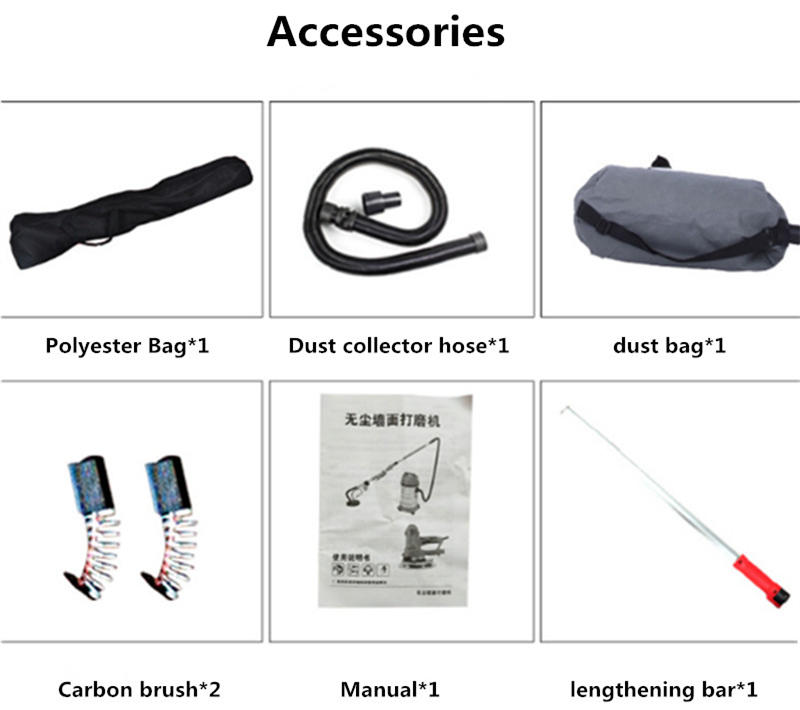 All Details of our Drywall Sander:
Drywall sander is designed for sanding walls and ceilings made of drywall or plaster. The sander provides a superior finish. and is faster then conventional finishing methods for both new construction and renovation work. Clean-up time for vacumm cleaner is minimized by the use of an exernal vacuum cleaner attached to the sander.
The hand-held Drywall sander is with ergonomic design handle, with vacuum system inside, dust bag for dust collection, no vacuum cleaner, with 6pistion speed adjuster, the adjustable output shaft ensure easy sanding of uneven surface.

The most efficient possible method of sanding drywall and plaster walls and ceilings. Get the job done faster, with less effort and better results than ever before. All in the comfort of a more dust free work environment.