Product Description
ITEM#SF-DY06
Economical Decorating Tool Set DIY Paint Tools Kit Nylon Paint Roller Brush
v   Paint Tray & Roller Cover & Paint Brush
v   Interior or Exterior Painting, Cutting in or Edging next to Trim and Ceiling
v   This roller is so much easier to use than the "old fashion" rollers!  We can even show it to our kids to use.
v   We will never take anything else again.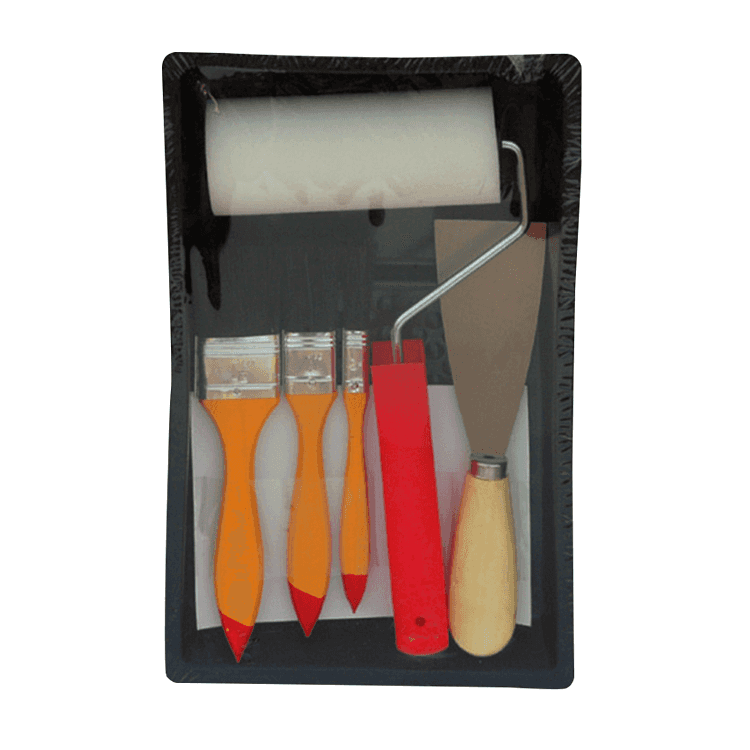 Paint Roller

Roller Cover

Masking Tape

Foam Brush

Putty Knife

Paint Brush

Masking Film

Paint Tray

SF-DY03

 9" acrylic paint roller

9" acrylic roller cover

blue color

2" foam brush

3" putty knife

2" paint brush

 9*12ft

9" iron paint tray with lining tray

 15mm nap

 12mm nap

24mm width

30 density import foam

 carbon steel

 15mm thickness

7mic thickness

 size: 38.5x27.5x6cm

38mm core diameter.

38mm core diameter

 

wooden handle

0.7mm thickness

51mm hair length

 

 

 rubber handle

 

 

 

 rubber handle

wooden handle

 

 

5.7mm   main rodchrome-plated

 

 

 

 

 

 

 
We make paint brushes, roller covers, pad painters, tools for everyone from the professional to the first-time painter.
We offer consistently high quality merchandise with a value unmatched in the industry.
And we continue to develop new and exciting products for both professional and DIY painters.
Instructions:
Instructions for Use
Pour a small amount of paint into the deep end of a paint tray.
Push roller into paint, but do not cover axle.
Roll roller backwards and forwards over the ribbed section of the tray to evenly disperse paint over the refill.
Apply paint using long, even strokes in all directions.
Avoid using rapid strokes as this could cause the paint to splatter.
Always work from unpainted surface to painted surface to avoid lines.

Instructions for Clean
Clean roller and tray immediately after use.
Return excess paint to the tin and wipe tray with a cloth or paper towel and clean with warm soapy water. Rinse well.
Remove excess paint from refill by rolling on a newspaper.
Remove refill head and clean thoroughly with warm soapy water. Rinse well in running water until water runs clear.
Shake excess water from roller and hang up to dry naturally, away from direct heat.