Product Description:
#SF-MH716
Free Sample Hand Cleaning Tools Painting Function Type Paint Brush Set
1. Bristle paint brush: natural black bristle or white bristle.
2. Paint brush handle, wooden handle or plastic handle.
3. Lacquered on the handle or not, both can be made.
4. Glue: epoxy glue,good quality glue, make the bristle not shed or pull out.
5. Ferrule: stainless iron ferrule or tin ferrule, very bright.
Commonly used for reference date specification
Size
Lengthout
Width
Package/pcs
Qty/Ctn(PCS)
1"
44mm
20mm
Opp or Pvc bag
600
1-1/2"
44mm
30mm
Opp or Pvc bag
600
2"
51mm
40mm
Opp or Pvc bag
480
2-1/2"
51mm
50mm
Opp or Pvc bag
360
3"
57mm
60mm
Opp or Pvc bag
240
4"
57mm
70mm
Opp or Pvc bag
240
Hair
1.Pure black/white bristle,boiled with two times,60%-80%tops.
2.PET/PP synthetic fiber, or tapered filament with any color.
3. Mixed tapered filament and bristle.
Handle
1.Wooden handle, it is can be any color.
2. Plastic handle, also can be any color.
Ferrule
1. Tin plate ferrule, it is economic.
2. Stainless iron/steel ferrule. It resist rust.
3. Chrome/gold plate ferrule, also resist rust.
Glue
Epoxy resin. Past the acetone test last for 24 hours.
Package
1.PVC hang bag each piece, 12pieces each inner box.
2.opp/pe/shrink film bag each piece,12pieces each inner box.
Supply Ability
30000pieces-40000pieces each day.
Delivery Time
15-20days one container.
If you are interested in our products exactly, please contact us for further details. We ensure any inquiry will meet our professional and prompt reply!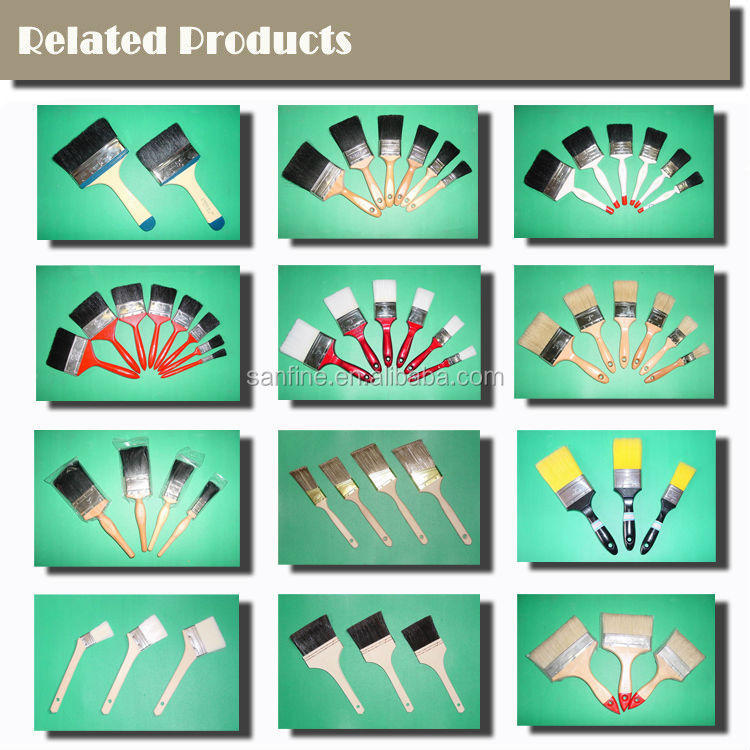 Related Products:
Different Types of Paint Brushes Explained
Natural Hair
The natural hair in natural hair brushes usually comes from Chinese hogs or from badgers. Natural hair paintbrushes work best with oil-based paints, although this means they need to be cleaned with paint thinner. You can also use brushes made from Chinese hog bristles with water-based paint, as they absorb the water.
Synthetic Hair
Synthetic hair means the bristles are made from polyester or nylon. They're much rougher than natural hair paint brushes. They work best with water-based emulsion paints.
Flagged Bushes
Flagging on paint brushes means that the ends of the bristles have been split. These "flagged" brushes, also known as "exploded bristle" brushes, are used exclusively for latex paint work. Paint can be applied more smoothly, with fewer marks from the brush.
Sized Brushes
Paint brushes come in many different sizes. These can range from the tiny, used in fine art, to those several inches wide, used when painting a wall. Within the sizing there are specialist brushes. Sash brushes have the bristles cut to a point, or taper in a chisel-like shape to access corners.